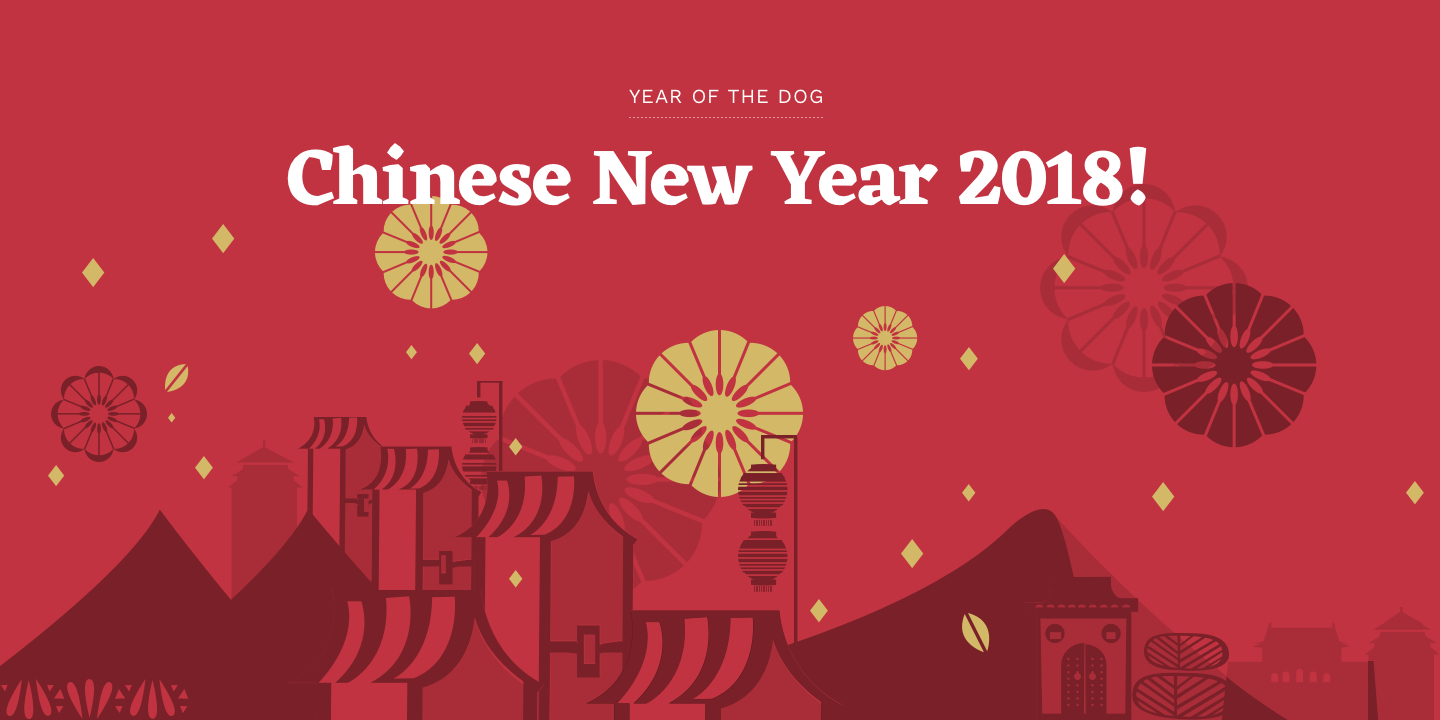 Celebrating Chinese New Year
Friday 16th February marks the beginning of the Chinese New Year which will be Year of the Dog.
The Chinese zodiac moves in a 12-year cycle, and those born in 1958, 1970, 1982, 1994, 2006, and 2018 are also known as Dogs. According to the Asian astrology, your year of birth – and the animal this represents – determines a lot about your personality traits.
Anyone born in a Dog year will be honest, loyal, communicative and responsible in the workplace. A Dog's most defining characteristic is their loyalty. They will never abandon their friends, family or work. They are honest and just, and are popular in social circles. They are also good at helping others find and fix their bad habits. Despite how they act, they are worried and anxious inside. However, this will not stop them – once they decide on something, no one can persuade them otherwise.
Celebrations and Traditions
The main custom around Chinese New Year is to call and visit immediate and extended family, to have meals and come together as family. Eat delicious food and do nothing but enjoy each other's company.
On the eve of Chinese New Year, many people set off fireworks and firecrackers, hoping to keep away bad luck.
It's also tradition for every family to clean their house, so they can sweep away any ill-fortune from the previous year and make way for incoming good luck.
Windows and doors are decorated with red paper strips and posters about good fortune, wealth and longevity. Red symbolises good fortune in Chinese tradition; children will be given red envelopes of money.
Here at Link HC , we are decorating our sites in red and with posters symbolising the Year of the Dog, to celebrate the Chinese New Year. We also have Chinese speaking counsellors, dentists, paediatric staff, occupational therapists and physios who can help with your health needs. Our LinkPETS program also helps both the dog and their owner, by matching volunteers who can provide dog walking support to pet owners aged over 65 who find it difficult to care for their pet.
On behalf of everyone at Link Health and Community, we wish you a very happy Chinese New Year.