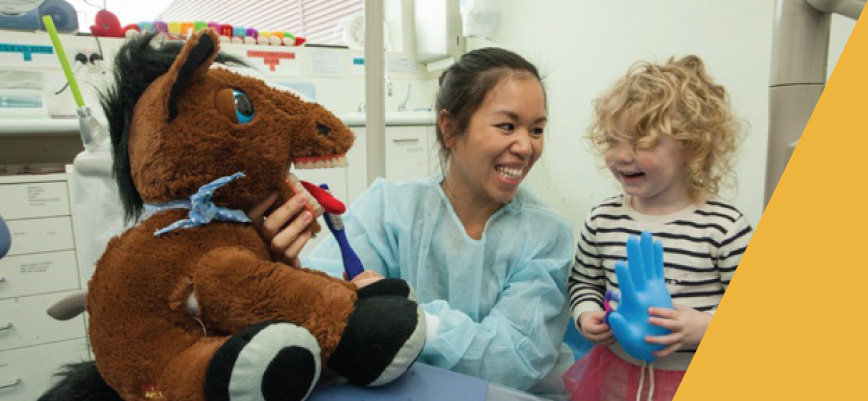 Our dental services are designed to give your child the very best oral healthcare.
Public dental services:
For all children 0-12 years
For children 13-17 who are listed on a Centrelink concession card
Child Dental Benefits (eligible if you receive Family Tax Benefit Part A or another government payment):
Available to eligible children aged 2-18 years
Access up to $1,013 for basic dental services (capped over two years)
Includes check ups, x-rays, fillings, root canals and extractions
Private dental services, for children not eligible to access our public service:
General dentistry
Emergency dental care
Specialist Orthodontist
Mouth guards/space maintainers
Family appointments
Saturday appointments
Keeping Kids Smiling
The Link Health and Community Keeping Kids Smiling program was developed in response to the National Oral Health Plan for 2004-2013 which describes the urgent need for improving community based dental services for children in Australia.
Keeping Kids Smiling at Kindergartens
Staff members from Link Health and Community will visit your child's kindergarten to provide a dental check up and lots of fun activities related to oral health for children to participate in.
We encourage parents to attend on the day of our visit, as there will be a short presentation upon arrival at the kindergarten, where there will be opportunities for parents to discuss any oral health concerns.
Children will be involved in activities relating to teeth, diet and healthy eating. Each child will be provided with a toothbrush on the day and with assistance by our staff members, will be guided on how to brush and take care of their teeth.
A dental check up will take place in a child friendly environment where children gain confidence by observing their friends' experience.
After the Dental Check Up
Our clinicians will record any cavities, signs of gum disease, or other oral health problems.
When the examinations are finished, each child will be given a letter to take home to their parent advising the findings and the recommended care. If your post exam letter indicates that your child requires further dental treatment, please call Link Health and Community to arrange an appointment.
Dental fees for children

0-17 years with Health Care Card
No Fee – Child Dental Benefit Scheme, Bulk billed to Medicare
0-12 years without Health Care Card
$35 (capped at $140 per family)
0-17 years without Health Care Card
Prices vary according to treatment – please contact 1300 552 509
If you have an enquiry about public dental, please call us on 1300 552 509.