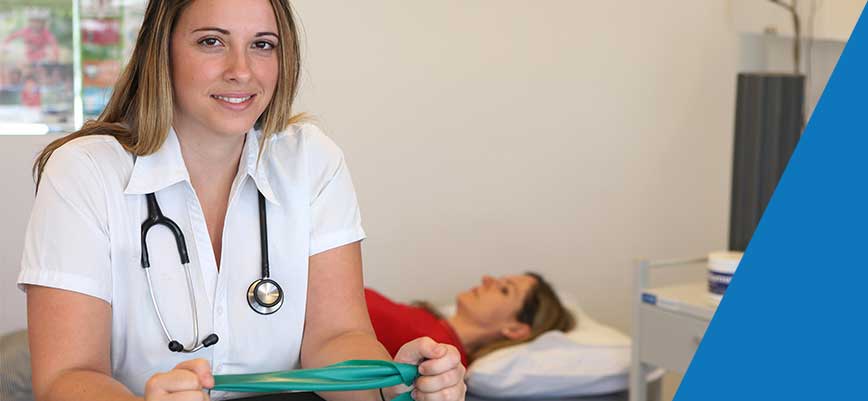 Physiotherapy is suitable for all types of people – young, elderly, able-bodied or disabled.
Physiotherapists can help you with the following:
Mobility and balance difficulties
Assessment for prescription of gait aid
Recent hospital discharge with a change in mobility
Fall resulting in hospitalisation or a recent fall in the home or community.
Longstanding joint or muscular pain with a change in function/pain
New onset of muscular or joint pain
Chest infections and difficult breathing
Requiring assessment for rehabilitation after hip or knee replacements
Rehabilitation after surgery
Recent fracture or surgery
Carer burden related to clients mobility
Muscle strain or ligament sprains
Muscle weakness
Neurological conditions such as recent strokes, multiple sclerosis, motor neurone disease and parkinsons disease
Allied Health Assistants
Allied Health Assistants support Physiotherapists, Dietitians, Occupational Therapists and other health professionals to achieve health outcomes. They focus on exercise, education and therapy programs for adults and children.
See our physiotherapists at
Link Health and Community – Clayton
Clayton Community Centre
Level 1, 9-15 Cooke Street, Clayton
Link Health and Community – Glen Waverley
2 Euneva Avenue, Glen Waverley
Link Health and Community – Oakleigh
8-10 Johnson Street, Oakleigh
Link Health and Community – Chadstone
94 Batesford Road, Chadstone
Note
No referral or health care card is required to see the Physiotherapist.
| | Individual appointments for adults |
| --- | --- |
| Pension/Health Care Card holder/Senior | $21 |
| Low fee | $21 |
| Medium fee | $31.90 |
| Full fee: Standard consultation/ review appointment | $96 |
| Full fee: Long consultation/ first appointment | $162 |