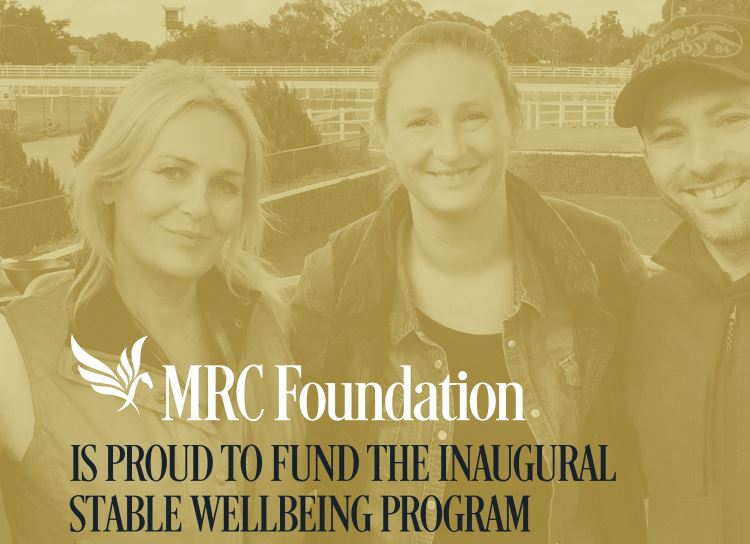 MRC Foundation is proud to fund the inaugural stable wellbeing program.
Link Health and Community is a not-for-profit organisation that provides services to improve the health and wellbeing in the east and south-east of Melbourne and eastern Victoria. Their services include dental, doctors, NDIS, allied health and counselling. The Link HC vision is healthier people participating in their communities.
Cara Hardwick is the coordinator of the Stable Wellbeing Program and answers some questions here about the program.
Cara – tell us what this program is about?
This exciting project aims to improve the mental health of stable employees, track riders and trainers at Caulfield and Mornington Racecourse by providing supported access to health and wellbeing programs as well as some onsite health activities.
What is your experience?
At Link HC I have worked with people from many backgrounds in various health and support programs. In a previous role, I supported patients at a psychiatric care facility. These roles have helped me to gain an understanding of the importance of mental health and wellbeing.
How has the role of the Champions contributed to the project?
The contribution from the three core Champions has been so valuable. They have shared health information throughout the stables. They also spoke at the MRC Gala and completed a training session about mental health and wellbeing. It's exciting to see them so passionate about the wellbeing of staff who work in this industry.
List your key achievements to date?
Onsite GP visit, flu vaccinations, skin checks, women's health sessions.
Stable Wellbeing Trainer's breakfast and Stable Staff BBQ.
No Bullying information displayed in the stables.
Pocket-sized information cards with health service contracts.
Supporting individual staff to access health services.
Why do you think the MRC and MRC Foundation place a lot of funding, staff support and emphasis on this program?
The MRC and MRC Foundation, as industry leaders, care about their staff and as such are demonstrating the importance of workplace wellbeing with trainers, track riders and stable employees at Caulfield and Mornington.
Where do you see the program going in the future?
More opportunities to improve staff physical and mental wellbeing through more onsite programs and more training of the champions and management, so that staff can better manage a work/life balance. We spend a lot of time at work, so it is important we have the skills and supports to manage it well.
What is the key message you would give to MRC members on the importance of Stable Wellbeing?
The racing community work long shifts and face physical and mental health challenges including fatigue, alcohol and drug issues, physical injury, gambling, workplace, aggression, bullying amongst other issues. Despite this, they are hardworking, resilient, passionate and really great people. The more we talk about health issues the less stigma will be attracted and the more help sought.
If you or someone you know needs some help or support, please call Lifeline 13 11 13.
This article was sourced from the Keeping Track Magazine, Spring 2018,  page 30
<https://mrcmembership.com.au/keeping-track/>